Positive Pay Fraud Prevention
Positive Pay is a powerful fraud prevention tool used by business customers to protect against check and ACH fraud. First State Bank's Positive Pay Service helps your business detect suspicious transactions, reducing the risk of financial loss and safeguarding the reputation of your business.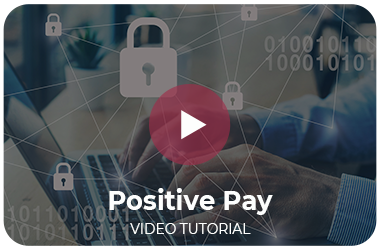 Positive Pay Frequently Asked Questions
How does Positive Pay work?
Your business uploads a file containing issued check data into the Positive Pay system. Checks presented for payment against your account are compared to those issued by the business. Any check not on the issued check list (and potentially fraudulent) is sent to you as an exception for examination. The business logs in to the Positive Pay system, reviews the exception item and makes a "pay" or "return" decision for each item.
You also have the option to set up ACH authorization rules or filter blocks for complete fraud prevention. Depending on your needs, you can choose to block specific ACH transactions or authorize only specific vendors to access your account.
What happens if someone tries to cash a check at a First State Bank branch?
The entire First State Bank network is covered by Positive Pay protection. Any checks presented to a teller in a branch are compared to your company's issued check file. If the check does not match the information in the file, First State Bank will contact your business for authorization to cash the check. Calls are made during normal banking hours Monday through Friday.
Can multiple users access Positive Pay?
Yes. Your business will designate an administrator of the Positive Pay service. The administrator can add additional authorized users with specific user permissions with access by account and by function.
What information is needed in the issued check file?
Only 3 pieces of the check information are needed: Check Number, Issue Date, and Amount. The issued check file may contain additional information, such as the payee name or memo, but is not required.
What if the file submitted contains items that are not checks?
If the issued check file contains other information, the system will ignore those items as long as they do not contain a Check Number, Issue Date, and Amount.
What if a check is written after a file has been submitted?
If a check is written after a file has been submitted, you can either send a new updated file or submit the check(s) using the Add New Issued Check option. This option will allow you to enter a single check or a series of checks without having to create and upload a new file.
How can Positive Pay help with Account Reconciliation?
With Positive Pay, mismatched checks are identified sooner and account activity reconciled with increased accuracy. The Positive Pay system also includes a Check Reconciliation feature that shows a summary of issued, paid, voided, and outstanding checks.
Can my business export check/ACH transaction history for Account Reconciliation?
The Positive Pay service offers a Reverse File Extract which allows you to export ACH and/or check transaction history. This file can be imported into your accounting software to facilitate account reconciliation. The Reverse File Extract supports the CSV, XLS, and XLSX file types. CSV and XLS allow only paid check information to be viewed. XLSX allows all transactions to be viewed.
Are there fees associated with Positive Pay?
No, Positive Pay is a complimentary feature provided by First State Bank.
How do I sign up for Positive Pay?
Contact our Accounting Services Department at 515-832-2520 to get started and learn more today!