Popmoney
Are you looking for a fast and easy way to send money to family... friends... or anyone you know? Use our Popmoney personal payment service.
It's the easy way to send... and receive money.
All you need is the recipient's name, email address... or mobile phone number. And the money is transferred from your account, right into theirs.
Check out the video below to learn more!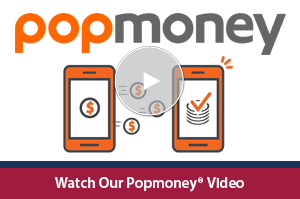 You must first be enrolled in Online Banking and Online Bill Pay to use the Popmoney feature. Contact us for assistance.