Debit Card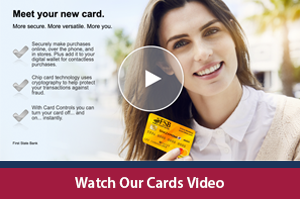 ---
Lost or Stolen Card​
| Telephone Number | Purpose |
| --- | --- |
| Local First State Bank Phone Number | If you need to cancel lost or stolen ATM or debit cards during bank hours. |
| (800) 383-8000 | SHAZAM - If you need to cancel lost or stolen ATM or debit cards after bank hours. |
| (855) 219-5399 | Shazam Fraud Operations - If your card is not working and you suspect fraud. |
| (800) 717-4923 | SHAZAM- If you need to activate your debit card or change your PIN |
---
Text Fraud alerts
Keeping your account safe and secure is our highest priority. We're adding Text Fraud Alerts as part of our debit card protection program. Click here to learn more.
---
FICO Falcon Fraud Manager
Think of us as your fraud protection bodyguard.
Fraud strikes people of all ages.* But we've got the muscle to keep your accounts safe. First State Bank is helping you fight fraud with FICO® Falcon® Fraud Manager.
Our fraud detection services keep your accounts safer.
With each swipe of your card, Falcon creates a memory of information based on cardholder habits such as where and when you shop, how much you typically spend, types of purchases, fraud rates in the area and more. Each purchase strengthens the memory and in turn, makes decisions on which transactions are likely to be fraudulent.
What if fraud is detected on my account?
If a suspicious transaction is detected on your debit card, a SHAZAM fraud specialist will call you on our behalf from 866-508-2693. They won't ask for any personal information.
If you confirm the transaction is fraudulent, Falcon's real-time response capabilities allow us to quickly respond to suspicious transactions and avoid additional losses.
There's nothing to sign up for. Simply provide your current contact information and notify us if it changes.
Falcon is just one fraud-fighting mechanism First State Bank has in place. Ask us how you can join the fight against fraud.
*Source: Nasdaq.comFi
** Source: fico.com
---
Shazam Bolt$
The SHAZAM BOLT$ mobile app offers you a safe, easy and fast way to manage your accounts. Identifying potential fraud, finding surcharge-free ATMs and monitoring accounts is available 24/7 on your mobile device, wherever the road takes you. Like a high-tech early-warning system, SHAZAM BOLT$ can immediately alert you to potentially fraudulent activity on your smartphone, tablet or home computer. SHAZAM BOLT$ provides alerts for purchases exceeding your defined amounts, phone or internet purchases, and suspicious or high-risk transactions. Download the app and get started today!
SHAZAM BOLT$ CARDHOLDER QUICK GUIDE (PDF)
---
Privileged Status ATM
No surcharge at Privileged Status ATM machines
First State Bank participates in the Privileged Status program developed by the SHAZAM network to help community financial institutions provide their customers with a broad base of surcharge-free ATM locations. Just look for the "Privileged Status ATM" logo to avoid paying any surcharge fees.